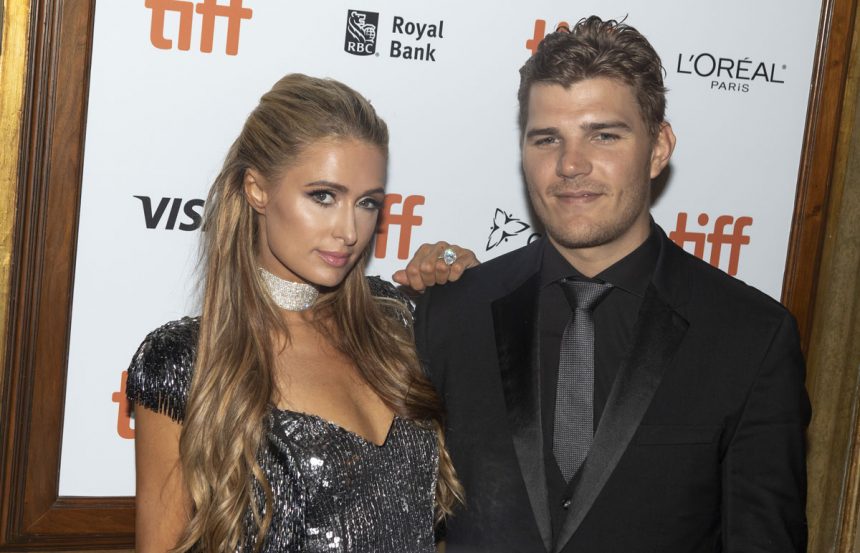 Chris Zylka officially says sayonara to his ex-fiancée, Paris Hilton!
After it was reported in November 2018 the two ended their engagement, the socialite seemingly confirmed the news on Instagram by posting a Marilyn Monroe quote about how "everything happens for a reason."
Related: Paris Hilton Is The Next Celeb To Do ASMR!
According to TMZ on Tuesday, the Leftovers actor went to Chronic Ink Tattoo Shop in Markham, Ontario to cover up his tattoo — which features The Simple Life star's name in Disney-like font.
The thespian — who is in Canada to film a new Netflix show — told artist, Winson Tsai, he wanted to conceal the body art before the shoot wraps by the end of the week. Additionally, he believes it's time for him to move on.
Over the "Paris" text, Tsai produced a MASSIVE gorilla on Zylka's arm. The impressive job also covered up Chris's lion tat.
The project took a total of six hours to complete, and would typically cost upwards of $1,300 — though it is unclear how much Chris actually paid.
In regards to the ape imagery, The Secret Circle alum reportedly believes it is a nice, peaceful animal, and his favorite one too.
See the before and after pics HERE!
In a December 2018 interview with SiriusXM's The Jenny McCarthy Show, Hilton said the jeweler of her engagement ring allowed her to pocket the rock!
She explained:
"The person who we got it from got millions and millions of dollars of free publicity."
In May, the 38-year-old — in collaboration with DJ/production duo Dimitri Vegas & Like Mike — dropped her music video for Best Friend's Ass, featuring longtime friend Kim Kardashian West.
The clip — directed by Charlotte Rutherford — takes a satirical look on today's clubbing and social media culture, and features cameos from YouTube stars Nikita Dragun and Juanpa Zurita, RuPaul's Drag Race contestants Derrick Barry and Nebraska, singer-songwriter Chester Lockhart, UFC fighter Chuck Liddell, and professional prankster Vitaly.
According to the YouTube video description of the song:
"Best Friends Ass displays all the hallmarks of a Dimitri Vegas & Like Mike production, with a round bassline providing a strong foundation for Paris' vocals to take centre stage and flourish. The lyrics give the track a playful nature, upbeat and sure to get the party started wherever it is dropped in the coming months, as the production techniques of the pair combine perfectly with Paris' topline to provide a song that is instantly catchy from the first listen."
The explanation continues:
"Best Friends Ass is another example of Dimitri Vegas & Like Mike's skill in straddling the fine line between clubland and mainstream, culminating in a record that is both suited to festival mainstages as well as the radio, and you can be sure that the track is going to be heard across all platforms for a long time."
Thoughts??
[Image via WENN.]