Heather Rae Young is too confident to care about Tarek El Moussa's ex!
As we reported, the reality TV realtors started dating earlier this summer and have been spending the past few months leaving each other flirty Instagram messages and getting hot and heavy on the Flip or Flop! star's boat.
While their relationship may be new, the Selling Sunset star insisted the two were rock solid in an interview with RadarOnline — so solid, in fact, she doesn't even mind the fact her boyfriend is still filming his hit HGTV renovation show with his ex-wife, Christina Anstead (aka Christina El Moussa)!
Related: Tarek & Christina's Split Is Truly Playing Out On 'Flip Or Flop'!
When asked if she feels threatened by Tarek's professional relationship with his ex, the 31-year-old told the outlet:
"Not at all. I'm a really confident person, and I'm confident in our relationship, and I think what he does and everything he has going is so amazing, and I'm fully supportive of everything."
Great to hear!
Young went on to reveal the 37-year-old actually asked her out a while ago, but she told him no at the time because she was in a relationship. Eventually, they "reconnected" through mutual friends on the 4th of July — at which point, Young was single and ready to mingle.
Related: Tarek Opens Up About How Steroids Ruined His Life & Marriage
As fans will know, Tarek split with Christina in December 2016, six months after a fight in which cops were called to their home. The couple — who share 8-year-old daughter Taylor and 3-year-old son Brayden — finalized their divorce in January 2018 and continue to work together on their HGTV show.
Christina married Ant Anstead in December 2018, and revealed she and the English TV presenter were expecting their first child together in March — so, Young has no reason to feel threatened. Still, it's nice to hear she's so confident!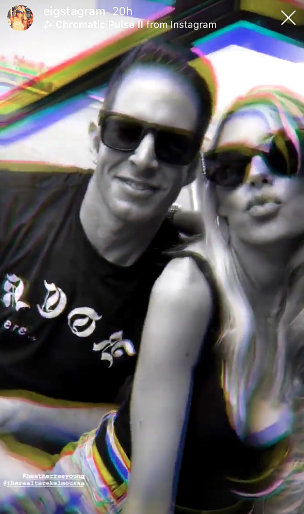 As for the other potentially threatening entity in Tarek's life — his fanbase — Young said she's received nothing but support from them:
"I think his fans are very supportive, and he's been doing this for so long that he's built a great fan base. He's such a likable person. So it's nothing of concern. All his fans have been wonderful to me. So far, so good."
Phew. Exes are one thing, but protective fans are league of their own. (Just ask Hailey Bieber…)
Tarek, meanwhile, gushed over his "amazing" girlfriend in an Access Live interview last week. He said:
"I've been on my own for three years. I've been looking and looking. I finally met Heather. She's amazing. She's brilliant, she has a huge heart, she's killing it … and she's just a superstar. She's, like, the coolest girl I have ever met. I just adore her."
Awww. No wonder Heather's so confident in their relationship. The guy clearly worships her!
Ch-ch-check out her full interview with Radar (below).
Wishing them the best!
[Image via WENN/NBC]