North West is taking over the world of fashion!
On Monday on Instagram, momma Kim Kardashian West posted the (above) photo of her daughter from their recent family trip to Japan.
Related: Kim Kardashian Shares Adorable, Snuggly Pic Of Saint & Psalm West!
In the caption, the KUWTK star revealed she allowed the six-year-old to style herself for the vacay — as the little one is the "ultimate fashionista."
The 38-year-old wrote:
"My Northie girl is the ultimate fashionista! She comes with me to fabric stores and picks out what she likes and for our Japan trip I let her style herself. I should have let her style me too lol. She loves it. She's having fun and I am so happy she's so expressive."
See all of the pics (below):
Of course, this is not the first time Kanye West's eldest kid has made headlines with her edgy looks.
In July, Northie rocked a "fake" nose ring for her great-grandmother's 85th birthday party.
Back in June, Kardashian posted a photo of North wearing one of her old outfits — including what looked like a real fur coat.
However, the KKW Beauty mogul pointed out the outerwear in question is FAUX — as she replaced all of her animal-made garments with animal-friendly ones.
The reality TV personality added the caption:
"Remember when I wore this! She picked out the same look lol but fun fact- I took all of my fave furs and remade them in faux fur."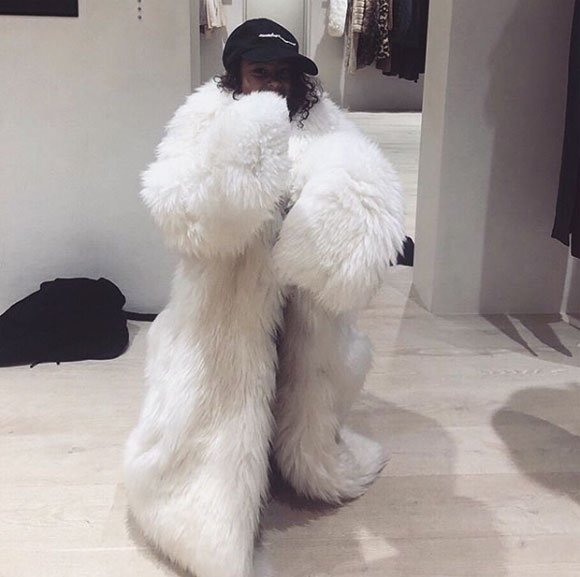 Despite her clarification, social media users STILL had something to say! They penned:
"You only said that so you won't get dragged for having real fur."

"When you fake a caption to save yourself from trollers."

"no you didn't . you only said that so you won't get dragged for having real fur"

"I don't believe you"

"You shoulda jumped on the no cruelty train a while ago."

"Animal still dead tho"

"Why re-making them? You've already done the damage"

"I think you're confused about how furs work."

"Please consider not even using faux fur. It still promotes the idea of real fur and a lot of products, particularly out of China, are marked 'fake' when they're not. Animals depend on us to take care of them. The fur industry is one of the most horrific and needless industries that brutally tortures and creates great suffering for animals who have a deep capacity to feel fear and pain. #furisdead #compassionisfashion'"
Kim has long been criticized for wearing fur. In fact, back in 2012, she was famously flour-bombed on a red carpet by a PETA supporter.
Thoughts?
[Image via Kim Kardashian West/Instagram.]