Hey now, hey now!
Hilary Duff is reprising her titular role of Lizzie McGuire in a new series for Disney+, and this is DEFINITELY what dreams are made of!
Related: Hilary Duff Shares Why She Stopped Breastfeeding Her Daughter Banks
On Friday at the D23 Expo in Anaheim, California, Duff shared the news with an enthusiastic audience. Per EW, the 31-year-old explained (below) the premise of the new series on stage:
"It's so great to be home. The good news is, just like me and everybody who loved Lizzie and has grown up with her, Lizzie's also grown up. She's older, she's wiser, she has a much bigger shoe budget, which is super exciting. She has her dream job. She has kind of the perfect life right now."
So what's Lizzie been up to since we last saw her in 2004? It seems like she has it all figured out and is living it up in the Big Apple:
"She's working as an apprentice to a fancy New York City decorator. She has her dream guy, who owns a cool SoHo restaurant. She has her dream apartment in Brooklyn. And she's getting ready to celebrate her 30th birthday."
While it has not yet been confirmed if fellow leading cast members Adam Lamberg, Jake Thomas, Lalaine, Hallie Todd, or Robert Carradine will also be taking on their original roles, one character who is returning is Lizzie's animated alter ego of her inner thoughts:
"She is still dealing with that 13-year-old no-holds-barred animated Lizzie that's constantly babbling in her adult Lizzie head. So she has to deal with that. But I think that's what's going to make it really special."
Yasss!!!
The momma of two shared a sweet montage video on Friday afternoon to Instagram with clips of her character, set to What Dreams Are Made Of from The Lizzie McGuire Movie:
The Younger star also took to her IG Story to share more about the exciting announcement:
"Hey guys I am here at the Grand Californian in Anaheim at Disneyland and I'm here to head over to D23, after hair and makeup, to announce the Lizzie McGuire reboot for Disney+, and I am beyond excited.

Honestly I've thought about what I would say for quite a few days now, and I don't really have words. It's crazy. I've really missed her.

I think now is a great time for her to come back, in her 30s and you know she's everybody's best friend and I can't wait to go on this next chapter with her and I hope everyone is as excited as I am.

I never ever get nervous, but I'm actually a little bit nervous right now!"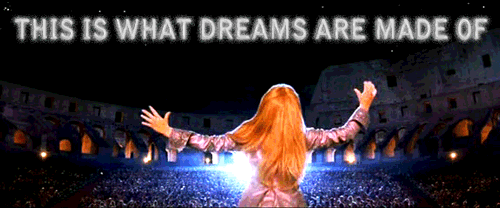 Are U looking forward to seeing Hilary Duff in her old role, Perezcious readers? Sound OFF
(below) in the comments with all your thoughts!
[Image via Hilary Duff/Instagram & WENN/Mega.]