Eff yes, Whitney Cummings!!
The standup took to Twitter on Monday to do something less comedic and more, well, frankly cool as hell.
After being extorted by people online threatening to release a nude photo of her, she blew up their whole game — by posting it herself on social media!
Related: Cardi B Jokes About Why She Got A Boob Job
See her explanation of the situation (and more) below:
1) In April I accidentally posted an insta story that showed nipple. Once I realized, I deleted. The people who took screen grabs are trying to get money from me, some said they have offers to sell them, some are asking for money to not post the photo.

2) They all must think I'm way more famous than I am, but they also must think I'm way more easily intimidated than I am. If anyone is gonna make money or likes off my nipple, it's gonna be me. So here it all is, you foolish dorks.
And she posted it, in all its accidental nip pic glory.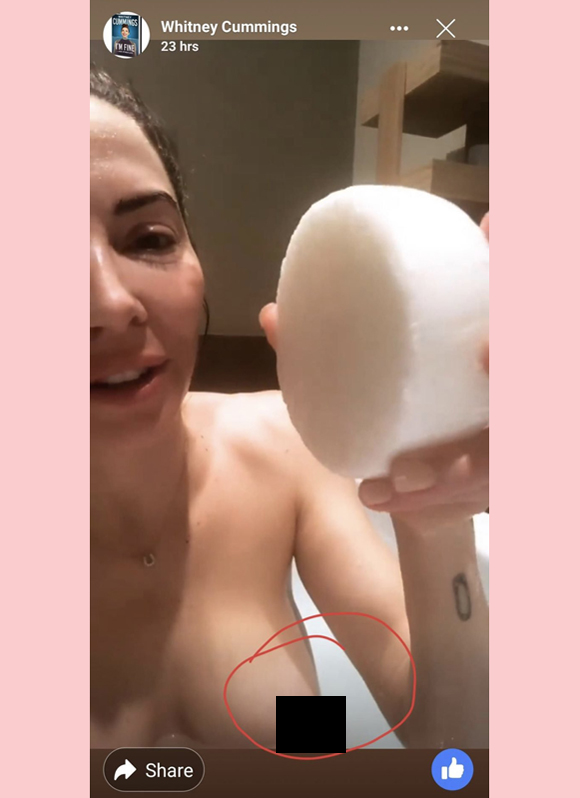 So badass.
The comic, whose new special Can I Touch It? just dropped on Netflix July 30, took a moment to explain her decision, writing:
"When a woman in the public eye is extorted, we have to spend time, money and energy dealing with it, hiring lawyers and security experts, and living with a pit in our stomach about when and how we will be humiliated. Y'all can have my nipple, but not my time or money anymore."
Wow. That is a really serious point she's making.
But while she's exposing herself, what about exposing the guys who were extorting her? It's only fair, right? What they were doing sounds like a crime.
Whitney said she would NOT be naming anyone, and her reason why was very merciful:
"I'm not posting the names of the people trying to extort me because some of them might be dumb kids. I wouldn't want the stupid ideas I had when I was a teenager to follow me around forever or else every time someone Googled me, they'd see me shoplifting a NO FEAR t-shirt."
Ha! Compassionate comedy. Really impressive.
BTW, a couple hours after all this, Whitney hit followers with an update:
"Now I'm getting threatened with "we have access to your iCloud." I'll be honest, I stand by most of my nudes. Frankly I'm way more embarrassed by all the inspirational quotes I've screen grabbed."
Nice! Don't mess with Whitney!
BTW, the comic got support from some comedian friends, as well. Whitney costar Chris D'Elia even took off his pants to do so!
Real friends send you their embarrassing pix when you're embarrassing pix come out. Thank you @chrisdelia for humiliating yourself to make me feel better. pic.twitter.com/TdZ6vuzpye

— Whitney Cummings (@WhitneyCummings) August 12, 2019
What do YOU think of Whitney's response to being extorted??
[Image via FayesVision/WENN/Whitney Cummings/Twitter.]